Fostering the birth of Rodeo Bulls!
Bull Semen
Top Genetics Influenced with Great Outcrosses
DEVILS TOWER #S45 DATE OF BIRTH 2000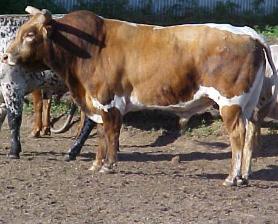 Price: 75.00 per straw + Shipping. Email for current shipping rates before ordering.
Shipped by UPS/FedEx in a Cryobank. You ship the Cryobank back UPS/FedEx at your cost. The package consists of an insulated liquid nitrogen semen shipping canister. Satisfactory semen storage temperatures (35 to 50° F.) are maintained in this shipper for 84 hours at atmospheric, temperature of 80° F. Results of inseminations with shipped semen requiring 48 to 72 hours in transit are very satisfactory for stored semen.
The average volume of bull semen is 7ml. per ejaculation. One straw is enough semen is enough to inseminate one cow or heifer. When buying bull semen, it is best to buy more than one straw because of shipping costs being the same for 1-? straws. The shipping tank is the same size. There is always a chance that the artificial insemination will not take so it is always best to purchase a few straws.
You just call UPS or FedEx to have the tank picked up so we can use it for the next customer. The semen for sale is shipped in a nitrogen tank that will keep the semen frozen until it gets to you. You need to put the bull semen in a nitrogen semen tank upon delivery. Bull semen must be kept in a nitrogen filled tank until you are ready to use it.
| | |
| --- | --- |
| | Thank you for your order. |